PRODUCT DETAILS
DOOM Eternal is on a region-free physical cart for the Nintendo Switch. This is an open pre-order for a limited time.
PRE-ORDERS CLOSE ON SUNDAY, SEPTEMBER 11, 2022 AT 11:59 PM EASTERN TIME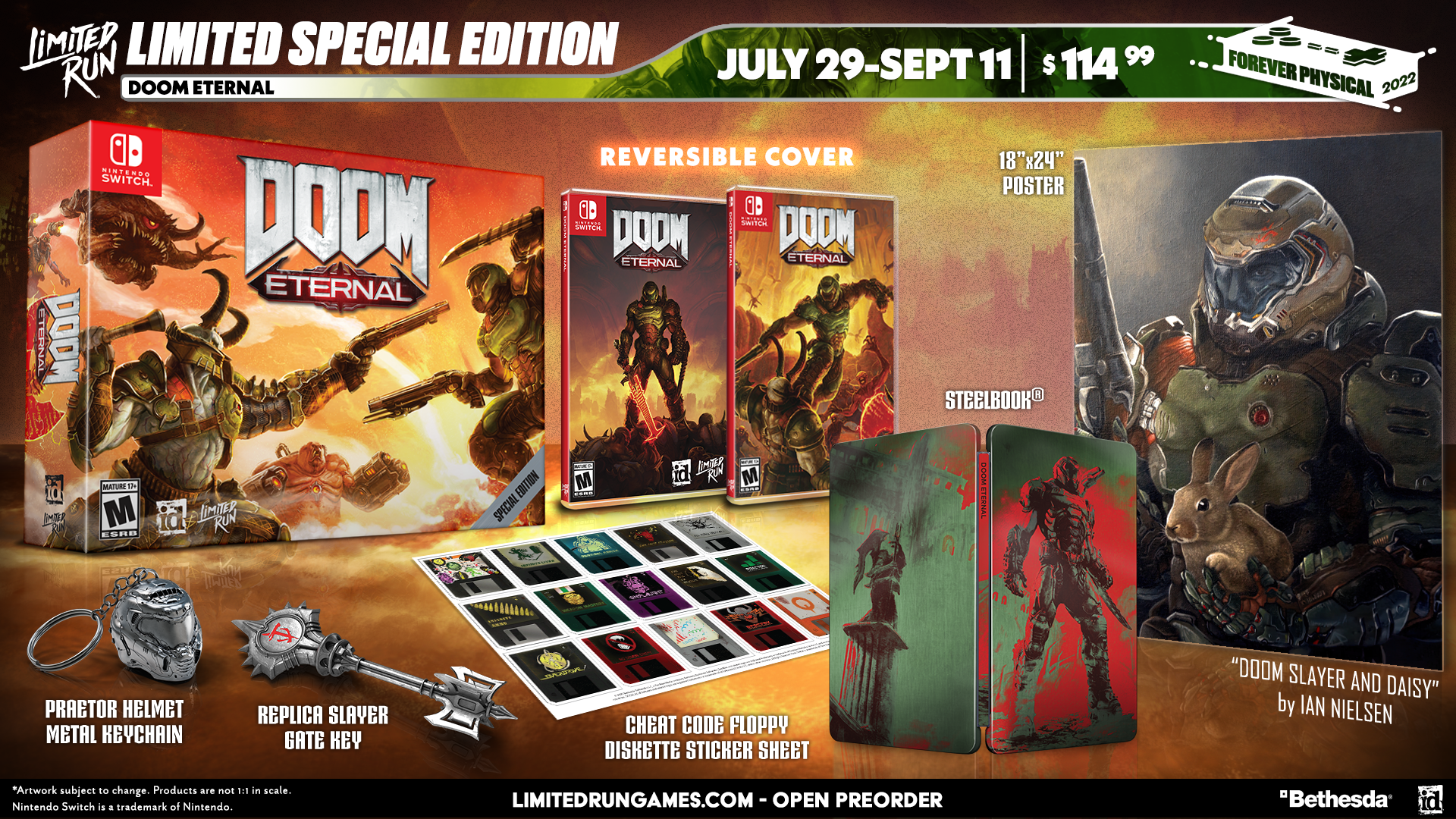 DOOM ETERNAL SPECIAL EDITION INCLUDES:
Physical Copy of DOOM Eternal for Nintendo Switch with Reversible Cover
DOOM Eternal Special Edition Box
DOOM Eternal SteelBook
18" x 24" "DOOM Slayer and Daisy" Poster by Ian Nielsen
Cheat Code Floppy Diskette Sticker Sheet
Replica Slayer Gate Key
Praetor Helmet Metal Keychain
Genre: Action
# of Players: Multiplayer
Supported Voice Languages: English, French , Portuguese, Spanish
Supported Screen Languages: English, French, Portuguese, Spanish
Cart includes Display version 1.09
Need Protection? This product will fit the Standard Collector's Edition Protective Case
PLEASE NOTE: There is no purchase limit on this item. This item is currently in manufacturing and artwork is subject to change. Products are typically not expected to ship until 8-9 months after the preorder window closes. Future production updates will be visible on the product page and your account page. All orders are considered final and can not be canceled.
ABOUT THE GAME
RAZE HELL
DOOM® Eternal, the award-winning game and "one of the best first-person shooters ever" according to GameRevolution, is coming to Nintendo Switch. Developed by id Software and Panic Button, DOOM Eternal is the direct sequel to DOOM®, winner of The Game Awards' Best Action Game of 2016.
Hell's armies have invaded Earth. Become the Slayer in an epic single-player campaign to conquer demons across dimensions and stop the final destruction of humanity. The only thing they fear…is you.
FEATURES:
SLAYER THREAT LEVEL AT MAXIMUM
Experience the ultimate combination of speed and power in DOOM Eternal—the next leap in first-person combat powered by idTech 7. Armed with a shoulder-mounted flamethrower, wrist-mounted blade, upgraded guns, new abilities and more, you're the greatest demon slayer in existence.
PUSH-FORWARD COMBAT
Take what you need from your enemies. Glory Kill demons to recover health, incinerate them to receive armor and cut them down with the Chainsaw to stock up on ammo.
MOTION AIMING READY
Improve your aim with a control option that allows you to aim using gyro controls. The option can be used in conjunction with the control stick for the perfect blend of immersion and accuracy.
ENTER BATTLEMODE
A new 2 versus 1 online multiplayer experience pits a fully-armed DOOM Slayer against two player-controlled demons, fighting it out in a best-of-five round match of intense first-person combat.