PRODUCT DETAILS
PRE-ORDERS CLOSE ON SUNDAY, SEPTEMBER 4, 2022 AT 11:59 PM EASTERN TIME.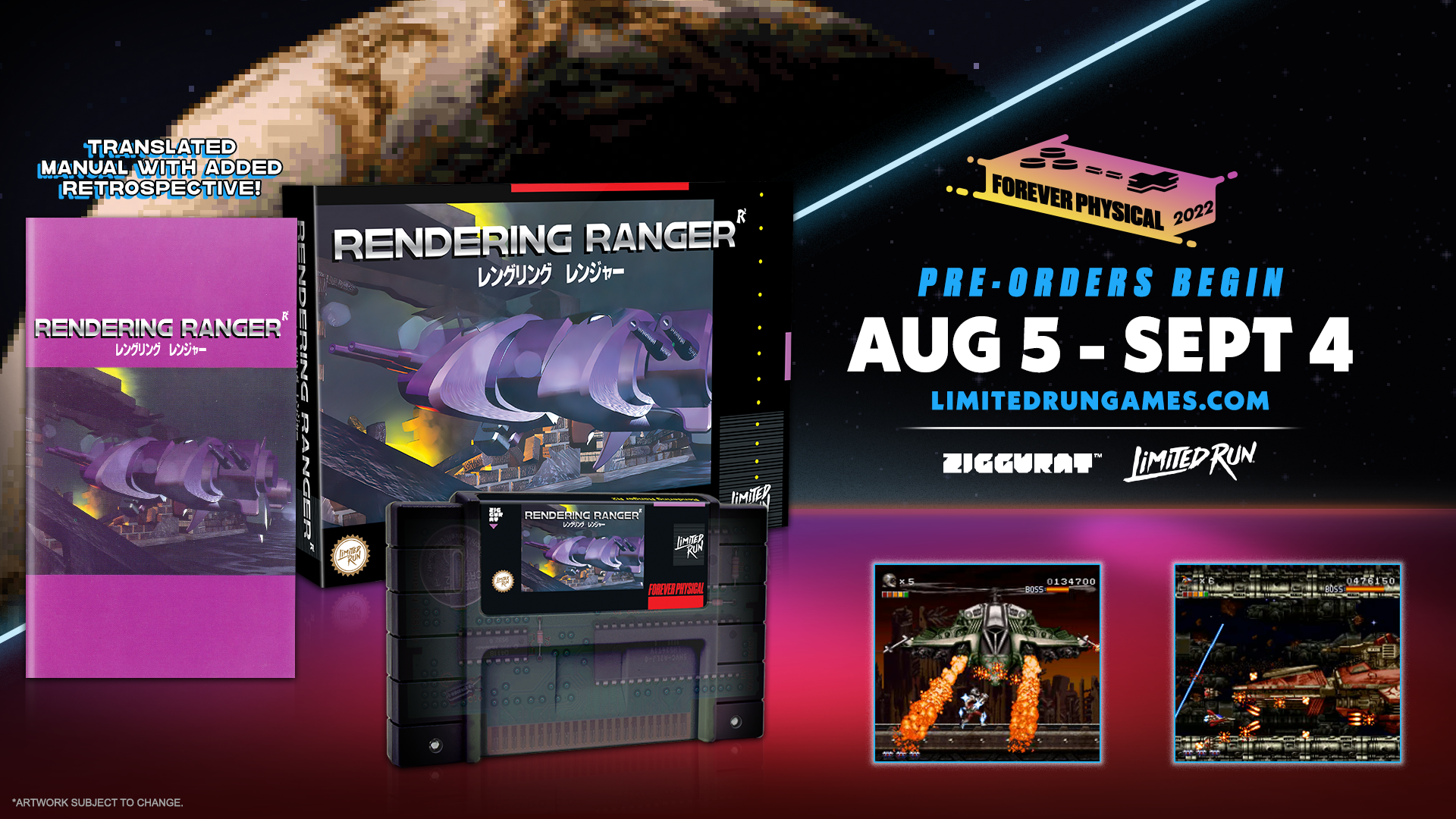 RENDERING RANGER: R2  STANDARD EDITION INCLUDES:
Physical Copy of Rendering Ranger: R2  for SNES
SNES Box
Translated Manual with added Retrospective
Compatible with NTSC format consoles
Genre: Action, Adventure, Arcade
# of Players: 1 players 
Supported Languages: English
Need Protection? This product will fit the SNES/ N64/ Switch Classic Edition Protecive Case
PLEASE NOTE: There is no purchase limit on this item. This item is currently in manufacturing and artwork is subject to change. Products are typically not expected to ship until 4-5 months after the preorder window closes. Future production updates will be visible on the product page and your account page. All orders are considered final and can not be canceled.
ABOUT THE GAME
THE LEGENDARY SUPER FAMICOM CULT CLASSIC IS BACK.
Released only in Japan nearly 20 years ago, Rendering Ranger: R2 arrives on the Super Nintendo at last!
Developed by Manfred Trenz (creator of the Turrican series) and published by German software powerhouse Rainbow Arts, this game was originally released in 1995. Originally slated to come to the West as Targa, the game ultimately ended up as a Japan-only title, with only 10,000 copies printed, making it one of the most sought-after collectibles in retro gaming.
You are the Rendering Ranger, a special forces soldier who must defend the Earth from a devastating alien invasion. Through nine levels of action platforming as well as blisteringly fast horizontal shooter stages, Rendering Ranger: R2  is one of the greatest technological showcases ever seen on the Super Nintendo!
FEATURES:
Gut-wrenching side-scrolling action with sprawling stage design and cinematic presentation
Mind-blowingly fast horizontal shooting stages unlike ever seen before on Super Nintendo
Upgradable weapons, tons of enemies, dynamic on-scene mayhem at nearly every turn
Gigantic bosses fully rendered in 90's Silicon Graphics
Timeless 16-bit action at its best from legendary game creator Manfred Trenz
Releasing worldwide for the very first time since its original release!
Every copy includes a newly translated version of the original Rendering Ranger: R2 manual—with an added retrospective on its development and prototype differences by Audi Sorlie—and a Ranger R2-themed smoke gray SNES cart that works on original hardware.